Featured Artist : Auntie Ann
Auntie Ann's Tie-Dyes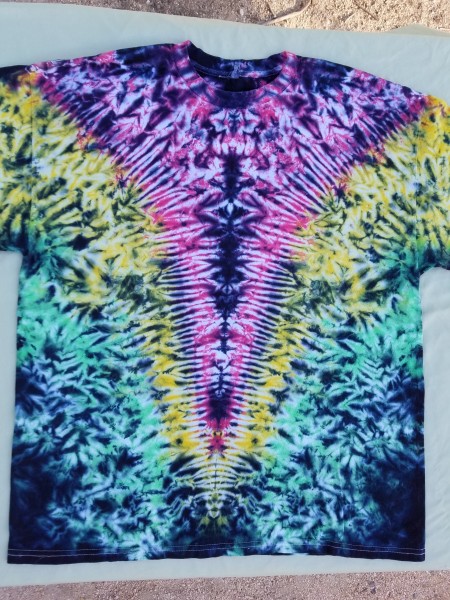 Artist Bio / Statement
I began tie-dying in 1990 as a fundraiser for a college club. I quickly developed a love for this art form and a desire to perfect my skills and create my own designs. My inspirations come mostly from the natural world. Impressed with the colors seen in the ocean in Hawaii, for example, I designed my "Hawaiian Beach" shirt with eight colors, spiraled to resemble a wave, and added a sandy beach along the bottom. "Amoebas" is the result of giving depth to a circle so that it looks like a sphere. I add to the effect of amoebas seen in a microscope by including one green paramecium on each item. And in "Night Meets Day" (another variation has "day" on the front and "night" on the back) I took on the challenge of two separate scenes on one shirt.
I put my works on a variety of t-shirts, tank tops, children's tees and infant onesies. I use Dharma dyes and many supplies. I love the color selection (Deep Space is perfect for my "Earth in Space" design), enjoy reading the catalog, and buy a variety of useful supplies. My favorite item, though, is the vanishing ink marker that will write on wet fabric. I draw fold lines for my "dragon pattern" (a variation of a V-pattern), body and tentacles for "jellyfish" and a whole lot more.
Contact Info
Dharma Products Used
Please see the description for a list of products used.